[rev_slider_vc alias="home"]
Welcome to Maria Montessori
Maria Montessori is one of the oldest MONTESSORI institutions which offers AUTHENTIC Montessori education in North-India which is affiliated by Montessori Europe. We are linked with many other Quality Standard organizations in Amsterdam, Netherlands and California which enables to proudly claim that we are one of the best standards of Montessori teaching. Maria Montessori was founded in 2003 by Mrs. Charu Kumar. Mrs. Charu Kumar have spent more than 20 years in the field of education and her experience diversifies in both of the type of teachings offered in India.
Our environments are designed to offer individualized learning and provide the necessary Montessori materials to help each student develop skills essential for these age groups. Each classroom offers the children experiences in the practical life, sensorial, language, math and cultural (geography, history, science, music and art) areas. The materials in these curriculum areas are self-correcting. This enables each child to gain greater confidence and perfection through his choice and repetition. Children gain a sense of independence as they take an active role in the Montessori environment.
With unique teaching methodologies like teacher home visits, passion time, connecting minds and extra mile, we cover all aspects of education that play a role in the overall development of our children. Enrol your child today, and discover the best for your children. Choose the best play school in Gurgaon. Choose Maria Montessori.
" We never teach our pupils; we only attempt to provide the conditions in which they can learn "
Our core values





Our Presence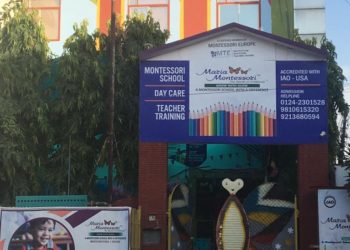 Summer Vacations- 16 th May 2020 to 30th June 2020
School will reopen on Wednesday – 01-07-2020
Day Care
Choosing the right care for your child is an important decision: Will the curriculum be a good fit? Will I feel safe leaving my child at this centre? Will the daycare accommodate my child's specific dietary needs? These are common questions that parents ask themselves when selecting a daycare. At Maria Montessori, we offer age-appropriate curriculum in a safe physical environment where children can learn and explore.
Blog
Around age two, kids' personalities are blossoming, Two-year-old children are funny and charming and may express themselves well verbally. That's because the toddler brain will be changing in major ways during early childhood It's will be sprouting new connections between brain cells at an astonishing rate, and it is beginning to prune back unnecessary connections. […]
Our happy parents
Hi mam, today is Urshita 's first day of new school. I am so scared whether she is safe or not ? But in your school I didn't think even for a single moment about safety ..Thanks for making so friendly environment… In ur school
Strength of the school- Child gets personal attention. The teachers and other staff members are very nice and well behaved. They take care of your child with love and affection.
Had an amazing experience there! Teachers are really qualified and hard working! The principal; Charu maam is just amazing, close to the parents and kids too!
This school will make your kids love to study!
During my work at Maria Montessori, I found real kind teachers and employees. Very well structured places which gives children a better knowledge environment. It was a great experience.